Elevate Your Marketing Strategy with Comprehensive Data Append Services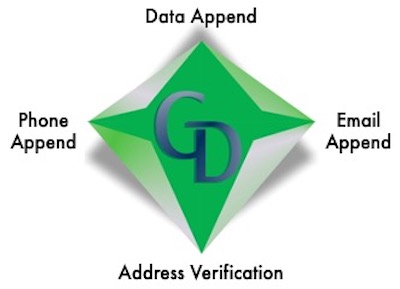 Accurate and current data is crucial for successful marketing campaigns in the ever-changing landscape.  At Gemstone Data, we know how important it is to add valuable information to your current databases.
Let us help you with the process and show you how it can transform your data. Our data append services can transform your marketing efforts and take your business to new levels! We offer phone and email appending to help you achieve this.
The Essence of Data Append
In the realm of modern marketing, precision is paramount. Gemstone Data's data append services improve mailing and postal addresses. They add accurate and relevant information, providing valuable insights for marketing campaigns. We enhance your databases by adding new and updated contact information such as cell phones and email addresses.
Email Append Services
When it comes to email marketing, you should not underestimate the vitality of having a comprehensive email list. Gemstone Data's email append services offer a seamless solution to fortify your existing email addresses. We use advanced technology and knowledge to help you update your records and make sure your messages reach the right people.
Our data is accurate and our match rates are high. This ensures that your email campaigns will connect with your audience. As a result, you can have confidence in the impact of your message.
Phone Append Services
In today's world, cell phones are essential. Including correct phone numbers in your marketing plan can make a big difference. Gemstone Data's phone append services provide you with the means to connect with consumers on a more personal level. Add new cell phone numbers to your records and reach your audience through different channels and make your marketing efforts more effective.
The Advantages of Data Append Services
Partnering with Gemstone Data for data append services unlocks a plethora of benefits for your business. Our services help you make better decisions for your marketing, reaching more people and getting better results.
Beyond expanding your reach and enhancing the effectiveness of your marketing campaigns, our services offer even more. Imagine being able to enrich your database with demographic and psychographic insights.
For instance, businesses can personalize their interactions by adding important information such as birth dates. This allows them to send birthday cards to customers. By utilizing data append, you are investing in the future of your marketing efforts. By investing in data append services, you're investing in the future of your marketing endeavors.
In Conclusion...
In the dynamic world of modern marketing, having a reliable and comprehensive database is the cornerstone of success. Gemstone Data's offers data append services, such as phone and email append, to help you succeed in your direct marketing efforts. Easily add updated cell phone numbers and valid emails to your databases, using precision to boost your marketing campaigns and see them thrive! Elevate your marketing efforts with Gemstone Data and embark on a journey toward unparalleled success.