Introducing Our New Movers Mailing List: Reach Fresh Opportunities with Precision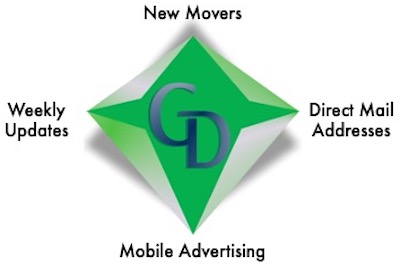 Are you looking to connect with a highly receptive audience that is actively seeking new products and services? At Gemstone Data, we offer an exclusive New Movers Mailing List that enables you to target individuals who have recently relocated. This dynamic and ever-growing audience presents a unique opportunity for businesses to make a lasting impression during this crucial transition phase. Leverage our New Movers Mailing List to engage with these prospects effectively and boost your direct mail marketing campaigns.
Up-to-Date and Reliable Data
We understand the importance of timely and accurate data when it comes to targeting new movers. Our New Movers Mailing List is meticulously updated on a weekly basis, ensuring that you have access to the most recent and relevant information. By leveraging our reliable data, you can be confident that your direct mail marketing efforts will reach the right individuals at the right time, maximizing your chances of success.
Direct Mail Marketing Reinvented
Direct mail marketing has always been a powerful tool for engaging with customers. With our New Movers Mailing List, you can take your direct mail campaigns to the next level. Our comprehensive list allows you to precisely target new movers based on their location, enabling you to tailor your marketing messages specifically to their needs. By reaching out to these individuals during a time when they are actively seeking new products and services, you can significantly increase the effectiveness of your direct mail campaigns.
Mobile Advertising Services
At Gemstone Data, we believe in the power of multiple touchpoints to enhance your marketing efforts. That's why we offer cutting-edge mobile advertising services to complement your direct mail campaigns targeted at new movers. With our addressable geofencing technology, you can display ads on the mobile devices of new movers within specific geographical areas. This strategic approach allows you to reinforce your brand message and increase engagement by reaching your target audience through both direct mail and digital channels simultaneously.
Why Choose Gemstone Data?
Quality Data: Our New Movers Mailing List is built using reliable and trustworthy sources, ensuring accuracy and relevance for your marketing campaigns.
Targeted Reach: We provide precise targeting options based on location, allowing you to focus your efforts on the areas that matter most to your business.
Seamless Integration: Our data solutions seamlessly integrate with your existing direct mail and marketing workflows, making implementation quick and hassle-free.
Personalized Support: Our dedicated team of data experts is available to offer personalized assistance and guidance, helping you optimize your campaigns and achieve your marketing goals.
Discover the untapped potential of new movers as a valuable customer segment. Unlock their interest and capture their attention during this crucial time of transition. Visit gemstonedata.com today to explore how our New Movers Mailing List and mobile advertising services can amplify the success of your direct mail marketing campaigns.
Contact Us Today
Call (888) 267-4321 or complete the form below, and let us show you how to find your Gemstone Prospect!