Your Trusted Source For Direct Mail Lists & Geofencing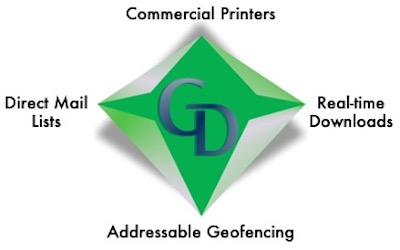 We're delighted to provide you with comprehensive information about the industries we serve, particularly direct mail advertising, graphic design services, and print companies that specialize in printing postcards and mail pieces for direct mail campaigns. Our services are designed to empower these companies and their clients to enhance their marketing strategies and maximize their return on investment (ROI). By leveraging our data portal, print companies and their clients gain access to a powerful tool that enables them to create highly customized and targeted direct mail lists for their campaigns. Additionally, we offer a unique feature called addressable geofencing, which further amplifies the impact of direct mail marketing efforts by providing multiple touchpoints to the targeted audience.
Trusted List Brokers for Commercial Printers
As a trusted list broker, Gemstone Data serves as a reliable partner for commercial printers. We have extensive experience in the industry and understand the unique needs and challenges faced by printers and their clients. Our team of experts is well-versed in market research, data analysis, and compliance regulations, ensuring that the mailing lists we provide align with your clients' campaign objectives. We work closely with you to identify the right mailing lists that match your clients' target audience, ensuring optimal campaign performance.
High-Quality Mailing Lists for Targeted Outreach
At Gemstone Data, we take pride in delivering mailing lists of the highest quality. Our extensive databases are meticulously compiled, regularly updated, and carefully segmented to ensure accurate targeting. We understand that your success depends on reaching the right audience, which is why our mailing lists enable you to target specific demographics, such as location, age, income level, industry, and more. By leveraging our precise data, you can ensure that your direct mail campaigns reach the individuals most likely to respond positively to your offers.
Here's how our services can benefit print companies and their clients:
Customized Direct Mail Lists
Our data portal offers a user-friendly interface that allows print companies and their clients to create customized direct mail lists tailored to their specific campaign objectives. By leveraging our vast database, which includes a wide range of demographic, psychographic, and geographic data points, users can precisely define their target audience. This ensures that each direct mail piece reaches the most relevant prospects, increasing the likelihood of engagement and conversion.
User-Friendly Data Portal
Our data portal is designed to be intuitive and user-friendly, ensuring a seamless experience for print companies and their clients. The portal allows for easy access to our extensive data resources, intuitive list creation tools, and advanced targeting options. Whether users are novices or seasoned marketers, our platform offers a robust set of features to simplify the process of creating highly effective direct mail campaigns.
Geofencing
In addition to customized direct mail lists, we offer geofencing as a powerful enhancement to direct mail campaigns. This technology enables print companies to complement their physical mailings with digital touchpoints, creating a multi-channel marketing experience. Addressable geofencing utilizes precise location targeting to deliver digital advertisements, such as display ads or mobile notifications, to individuals within specific geographic areas. By combining direct mail with digital interactions, print companies can reinforce their messaging, increase brand awareness, and drive higher engagement from their target audience.
Enhanced ROI
With our data-driven approach, print companies and their clients can significantly enhance their ROI for direct mail campaigns. By utilizing our comprehensive data and targeting capabilities, they can minimize wasted resources on ineffective mailings and instead focus on reaching the right people at the right time. This targeted approach optimizes campaign results, driving higher response rates, conversions, and ultimately, revenue.
Partner with Gemstone Data for Targeted Direct Mail Success
Gemstone Data is dedicated to helping commercial printers and their clients achieve targeted direct mail success. We offer comprehensive mailing list solutions that drive customer engagement and deliver measurable results. By partnering with us, you gain access to reliable data, industry expertise, and personalized support that will elevate your direct mail campaigns. Trust Gemstone Data as your go-to source for quality mailing lists and enhance your clients' direct mail marketing efforts.
Contact Us Today
Elevate your direct mail campaigns with high-quality mailing lists from Gemstone Data. Get in touch with us today to discuss how our mailing list solutions can support your commercial printing business and help your clients achieve targeted outreach success. Together, we can create effective direct mail campaigns that generate leads, increase conversions, and maximize your clients' marketing ROI.