Gain an Edge with Gemstone Data's Turning 65 Medicare Leads: Unlock New Business Opportunities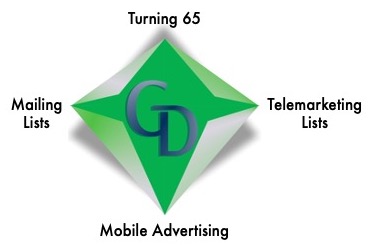 Gemstone Data is your trusted partner in delivering targeted marketing campaigns that resonate with specific demographics. We are excited to offer our popular Turning 65 Medicare Leads. These leads connect you with an important and growing group of consumers. Explore our carefully selected database and connect with these individuals as they begin their Medicare journey.
Unlock New Business Opportunities with Gemstone Data's Turning 65 Leads
As consumers approach the milestone of turning 65, their needs and preferences undergo significant changes, particularly in relation to Medicare. Our Turning 65 Leads help businesses effectively reach and engage a wealthy and diverse group. This leads to better response rates and more conversions.
Precision Targeting with Customized Data
Gemstone Data dedicates itself to providing accurate and up-to-date data, recognizing its pivotal role in successful marketing campaigns. We carefully gather our Turning 65 data from reliable sources, guaranteeing accuracy and relevance. Capitalize on this data to precisely target individuals based on essential attributes such as age, location, income, lifestyle, and interests.
Reach a Thriving Consumer Segment with Turning 65 Leads
The Turning 65 consumer segment boasts substantial purchasing power, making it an attractive market for businesses. With our Turning 65 Leads, you can tailor your marketing strategies to tap into this thriving demographic of retirees, empty nesters, and active seniors. Expand your reach and unlock new revenue potential by leveraging the insights provided by our data-driven list.
Enhance Campaign Effectiveness with Turning 65 Leads
Gemstone Data's Turning 65 Leads empower businesses to create highly targeted campaigns that resonate with the unique characteristics of this demographic. Gain a deeper understanding of their preferences and aspirations to deliver personalized messaging that directly addresses their needs. This level of customization fosters stronger connections, driving engagement and conversion rates.
Use Mobile Advertising to Display Ads on the Consumer Cellular Phones of People Turning 65
Gemstone Data uses mobile advertising to help clients improve their direct marketing campaigns aimed at people who are turning 65. Our cutting-edge geofence marketing technology allows businesses to create multiple touchpoints and engage with their desired audience like never before. Geofencing creates virtual boundaries around places like retirement communities and healthcare facilities. It sends display ads to the mobile devices of people in these areas.
This approach helps businesses stay in people's minds during the Medicare decision-making process by personalizing their outreach. Our clients can use mobile ads and geofence marketing to reach and engage the 65+ age group. This will help them increase brand visibility and drive sales. They can do this by delivering timely and relevant messages.
Maximize ROI and Expand Your Reach
Our primary focus at Gemstone Data is to help businesses achieve tangible results. By leveraging our Turning 65 Medicare Leads, you can expand your reach and optimize your return on investment (ROI). Our comprehensive data insights enable businesses to make informed decisions, optimize marketing efforts, and generate meaningful interactions with their target audience.
Gemstone Data's Turning 65 Medicare Leads provide a valuable resource for businesses seeking to connect with this diverse consumer segment. With our highly targeted database, you can create personalized campaigns that maximize engagement and drive exceptional results. Contact Gemstone Data now to find out how our Turning 65 Medicare Leads can enhance your marketing efforts. These leads allow you to tap into a large market and boost your business.
Are you ready to generate more medicare leads?
Call us today at (888) 267-4321 or fill out the form below for a free quote.